Request a call
Write to us
From 09:00 till 01:00 now works
Hosting on Ubuntu
Best pricing plans for high-speed SSD NVMe drives
In which country will my server be located?
How long does it take to activate a server?
Can I change the number of server resources?
Do you provide a trial period?
How does the refund work?
What is the difference between managed servers and fully managed servers?
Ubuntu Hosting
Ubuntu means "humanity" in one of the languages of Africa. This distribution was created to be accessible and convenient for the widest range of users. No wonder it is so popular in both the desktop and server versions. Ubuntu Server successfully competes with its two main rivals, CentOS and Debian.

Advantages of Ubuntu:


Long life of the OS. Each release receives patches for 5 years and can be supported for a fee for longer.

The latest technologies are always available for new versions of Ubuntu: PHP 7.4, OpenStack Ussuri, PostgreSQL 12, etc.

Stable LTS (long-term support) versions of Ubuntu are released every two years. The latest release came out in April 2020: Ubuntu Focal Fossa 20.04. So far, earlier versions of Ubuntu are also widely used. The previous LTS version 18.04 is supported until 2023 and will be kept alive until 2028.
FASTVPS Ubuntu Hosting
If you are looking for Ubuntu web hosting, FASTVPS offers a variety of VDS configurations, from budget to the fastest and most productive options.

FASTVPS pricing plans allow you to choose the best server for your project:


from a modest 5 GB of SAS to super fast 256 GB of SSD NVMe disk space;

from 1 to 32 GB of ECC RAM;

prices from 150 euro per month;

Linux VPS / VDS is activated within 10 minutes after payment unless manual order processing is required;

the price for renting VPS / VDS Linux hosting includes automatic backups;

virtualization based on OpenVZ and KVM technologies.
Supported Ubuntu Versions

FASTVPS provides VDS with Ubuntu 18.04 and 20.04 pre-installed. Our VDS are non-managed, so customers have more freedom to configure and maintain their virtual servers.

Server Location

FASTVPS works with data centers in Europe and the United States. You can choose the location of your Ubuntu VDS depending on the specifics of your project.


Our own FASTVPS data center in Estonia is equipped with high-security standards and gives you the advantages of data storage in the EU jurisdiction. Here you can find a wide range of servers, from economical options to the fastest VDS on NVMe SSD.

FASTVPS equipment in the new Tier 4 data center in the United States is the best choice for projects aimed at the American audience.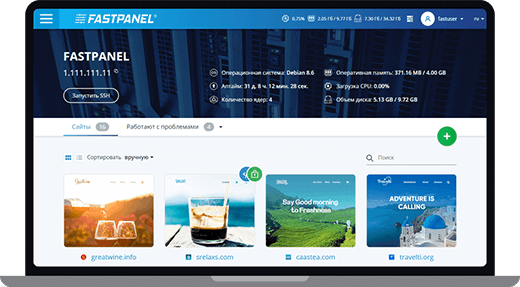 FASTPANEL Control Panel

FASTVPS clients can use the FASTPANEL server control panel for free. The new, modern panel is designed following the requests of our clients and meets all the needs of a VPS owner.

Thanks to a clear, intuitive interface, setting up and maintaining a server with FASTPANEL is a simple task that doesn't take too much time.